Pupils & Students
You've had enough of school or university and the professional world is now waiting for you? Cool company, cool people - have fun at work and start at Testo Industrial Services with an apprenticeship or a dual study program.
Are you interested in technology, business or information technology? Our training opportunities are diverse and at the same time individually tailored to your interests. Numerous young people have already successfully completed their training, dual study program, internship or thesis with us. Join the world's best trainee team and discover the advantages and opportunities for further development as a trainee or student at Testo Industrial Services. Boredom? No chance of that with us! With a lot of fun and variety, we will show you what is important in your job and how we can jointly shape the success of Testo Industrial Services. One thing is guaranteed: We have a lot of laughter.
From the very beginning, you will take on responsibility with us and be integrated into exciting tasks and projects in the departments at first hand. Sophisticated training concepts have proven themselves for years and open up numerous opportunities at Testo Industrial Services after successful completion. Find out more about our apprenticeships, dual study programs and numerous opportunities to get a taste of the professional world.

Our apprenticed professions
Have you had enough of dry school lessons and would like to get started straight away? An apprenticeship at Testo Industrial Services is anything but boring. The combination of practical training in the company and theory at the vocational school offers you the perfect basis for a varied apprenticeship.
Our dual study programs
You want to put what you have learned directly into practice? The dual study program offers you a unique combination of science and practical experience. You alternate at regular intervals between studying at the dual university and gaining insights into the company at Testo Industrial Services. The study contents are perfectly coordinated and you can apply your knowledge directly in the company. You work independently on projects and thus drive innovations forward!
More than just a job
A large trainee team with varied projects, exciting excursions and events with lots of fun, as well as an attractive trainee salary. In addition to a sophisticated training concept with numerous development opportunities, a unique team spirit and numerous employee benefits await you.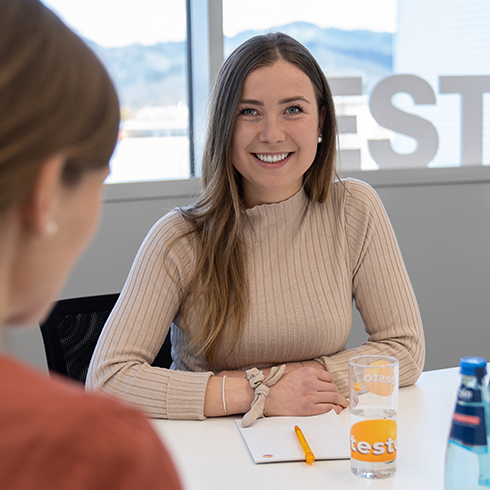 Tips for career orientation & application
Our HR experts will talk to you and give you valuable tips about the career orientation and application phase. So you'll be optimally prepared for the time after school. Use the helpful tips and write your application with ease and go into the job interview confidently and without surprises.

Your contact persons
Annika Wulff
Training manager commercial
Mathias Rombach
Training manager technical