PRIMAS validated - Validated gauge management solution for GxP-regulated areas
PRIMAS validated is a validation-capable, internet-based system for the management of test equipment for companies in the medical technology and pharmaceutical sectors with GxP compliance requirements.
PRIMAS validated is one of the IT solutions of our holistic gauge management solution PRIMAS, where calibration, logistical solutions and documentation management of your gauges are intertwined. PRIMAS validated was explicitly designed to meet the requirements of the GxP-regulated environment for gauge management and fulfils the regulatory requirements of DIN EN ISO 13485, 21 CFR 820.72, ISO 9001 and the EU GMP Guideline. PRIMAS validated focuses on integrity, safety and efficiency in test equipment management.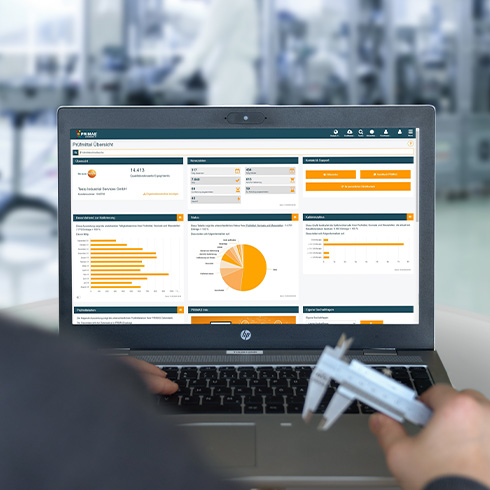 Modern user interface
The optimised user interface with dashboard makes it easy to use. You have the option of designing your start page according to your wishes with the help of widgets. Individually adjustable quicklinks in the navigation bar enable you to work more effectively and the optimised navigation provides more clarity. Get the most important key figures at a glance and display overdue test equipment from previous months in the widget "Upcoming for calibration". Thanks to the responsive design, you can access PRIMAS validated from any mobile device.
With PRIMAS validated you are on the safe side and fulfil all relevant normative requirements for test equipment monitoring and management from DIN EN ISO 13485, 21 CFR 820.72, ISO 9001 and the EU GMP Guideline. The GMP-compliant validation package from Testo Industrial Services includes a compliance assessment for EU GMP guidelines Annex 11 and 21 CFR Part 11 and ensures the validated status throughout the entire system life cycle. The validation is carried out according to the specifications of GAMP 5®. Our industry-experienced validation team offers you the flexibility you need, the know-how for your validation project and the support with GxP-compliant validation documentation. Learn more about PRIMAS validated's risk-based validation.
To meet your high data security requirements, we take extensive measures. These include daily backups of your test equipment data and calibration certificates. The spatial and temporal mirroring of the data servers provides additional security. The unrestricted data sovereignty lies with you and Testo Industrial Services. PRIMAS validated guarantees you a secure system without data loss.
Encryption of your certificates during transmission and at rest
Role-based access control with granular permissions
Extensive monitoring of access
Regular vulnerability analysis by independent specialised security companies to ensure cyber resilience
AI-supported monitoring of IT systems for anomalies
DSVGO-compliant storage of your data within the EU
Thanks to the automatic documentation in audit trails, all quality-relevant processes and changes in the system are fully traceable. You always have an overview of which employee made changes in the system at what time. In addition, PRIMAS validated provides you with a comprehensive authorisation concept in which individual authorisation roles of your employees are defined. The assignment is carried out via an administration process, which ensures that authorisations are stored correctly. In the case of process-relevant changes and when releasing your test equipment, the additional password query forms a further security level.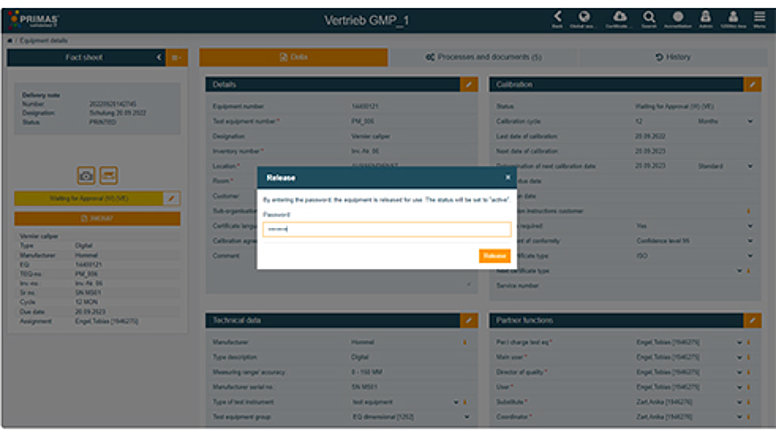 Take advantage of our full-service offer for manufacturer-independent calibration of all your test equipment/measuring points. Automated and paperless processes in test equipment management and calibration increase the efficiency of your processes. In addition, Testo Industrial Services takes over the administrative tasks for you. We create new users during operation and assign access rights (write, read and certificate access) via the administration process in accordance with your previously contractually defined authorisation concept. In this way, you retain data sovereignty over setting, authorisation or mass changes and can be sure that changes are only implemented by authorised persons. The assumption of administrative tasks by Testo Industrial Services also makes it easier for you to implement the segregation of duties within your company without having to define additional roles yourself. You benefit from minimal administrative effort in the event of personnel or organisational changes in your company. Put user administration in the safe hands of Testo Industrial Services.
With PRIMAS validated you can clearly map your company structure with sub-organisations (e.g. different locations). Your employees can be assigned to the corresponding sub-organisations and thus, for example, be given the right to view and change master data only at the level of their sub-organisation. To monitor calibration and maintenance due dates, an escalation scenario defined by you is stored in the system. Here you can store up to four reminders with different escalation levels and ensure the timely calibration of your test equipment. Individual data reports give you an overview of all relevant information and the development of your test equipment at all times. For further tests in addition to calibration, you can easily book reminders for tests such as verifications or maintenance.
Integrate an unlimited number of gauges and users into PRIMAS validated quickly and easily. The system always adapts to your needs, regardless of how many gauges you want to manage.
In order to meet your requirements for an efficient and safe gauge management solution, new functionalities and minor changes are introduced into PRIMAS validated in an innovation cycle of 24 months at the earliest. All changes and innovations undergo a strict project planning and test phase, including a risk-based assessment. We ensure the revalidation of the system via our change management.
Key functions in PRIMAS validated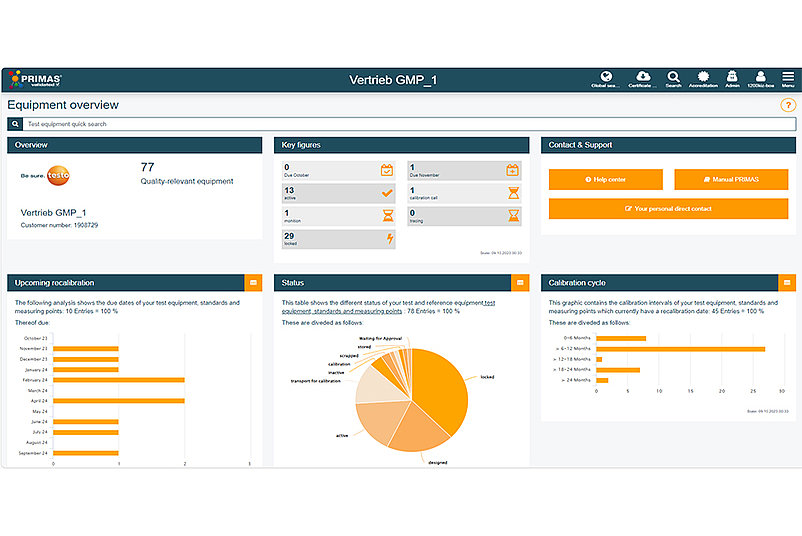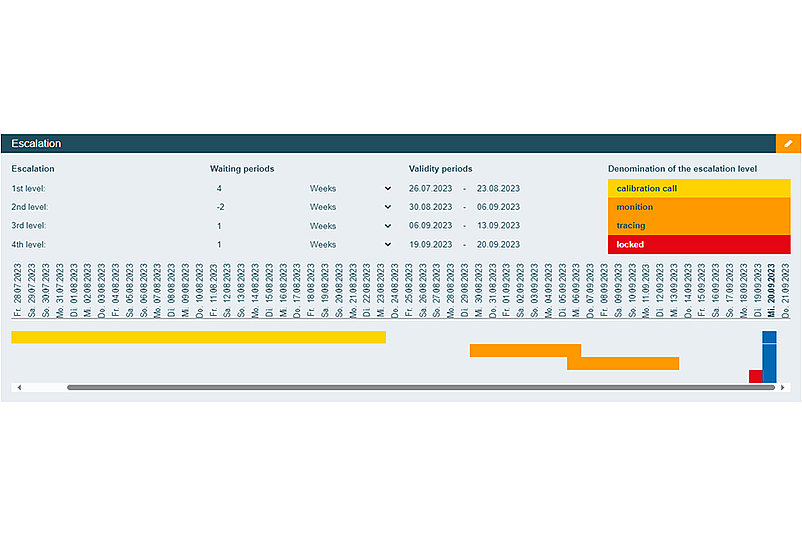 Functional enhancements in PRIMAS validated
After the revalidation in September 2023, PRIMAS validated and PRIMAS online are now on the same level. Thanks to simplified search functions, you save time and effort and can, for example, switch directly from PRIMAS validated to the portal and retrieve the order data of your equipment without additional login. You can also benefit from further functional enhancements in PRIMAS validated:
The processing of test equipment is greatly simplified and, above all, accelerated by the multiple change function. You can now make changes to several entries within your gauge lists without having to save them individually each time. After making multiple changes to your data stock, you enter your password once and save only once in the future. In this case, all changed data of all processed test equipment will be taken over at once. As usual, all changes can be tracked in the field history via the audit trail.
The search function in PRIMAS validated has been improved so that you can now copy entire list entries from Excel, for example, and paste them into the expert search. With the new global search, you can have all gauge fields searched for individual keywords. From now on, you can save your searches and retrieve them at a later time directly from the start page.
The optimised delivery note generator offers a variety of new functions: For example, the printed delivery note now contains the barcodes of the equipment number. You also have the option of printing the delivery note directly within the system, thus saving additional steps. In the delivery note itself, the sender can be individually selected and the search function has been optimised.
Do you need further tests in addition to calibration? You can easily book reminders for tests such as verifications or maintenance across all customers. These reminders can have their own interval and cycle, depending on your requirements. In addition, you can assign each entry its own status independent of the test equipment.
Avoid extra work due to incorrect test results and keep an eye on the measured values of your testequipment. With the additional functions tolerance utilisation and measured value analysis in PRIMAS validated, you can easily and intuitively select and analyse your critical test equipment and its measured values. The tolerance utilisation offers you the possibility to filter for test equipment with reached warning limits. The relevant test equipment can be selected via a multiple selection. With the help of the measured value analysis, you can analyse measured values in detail and derive a forecast for the next calibration. Please note that this function can be added to PRIMAS validated due to continuous optimisations and extensions, but is not included in the validated scope. If you have any questions, please contact your field service representative directly.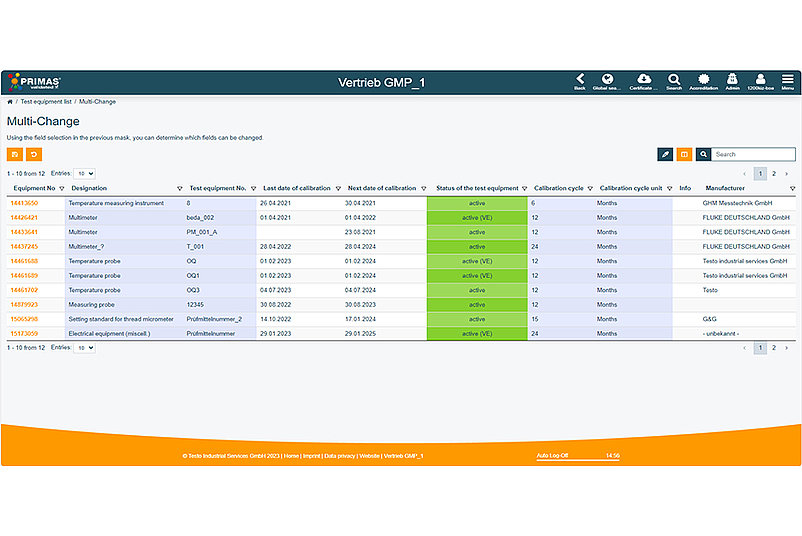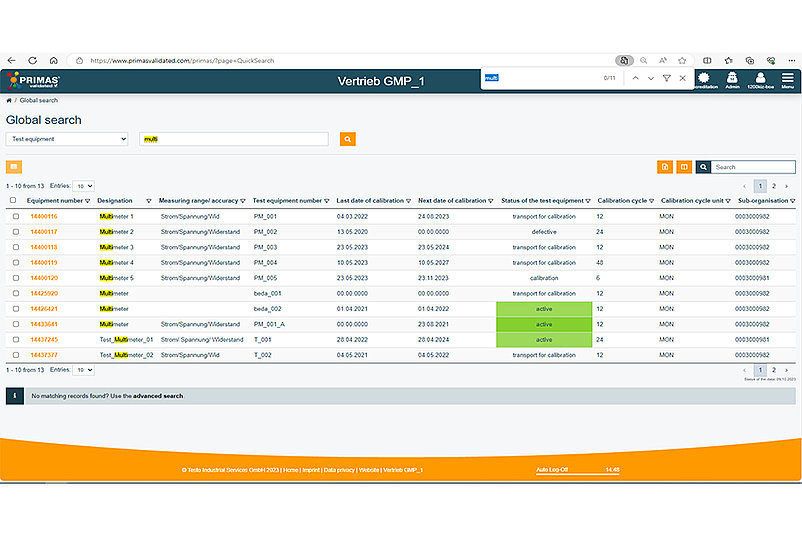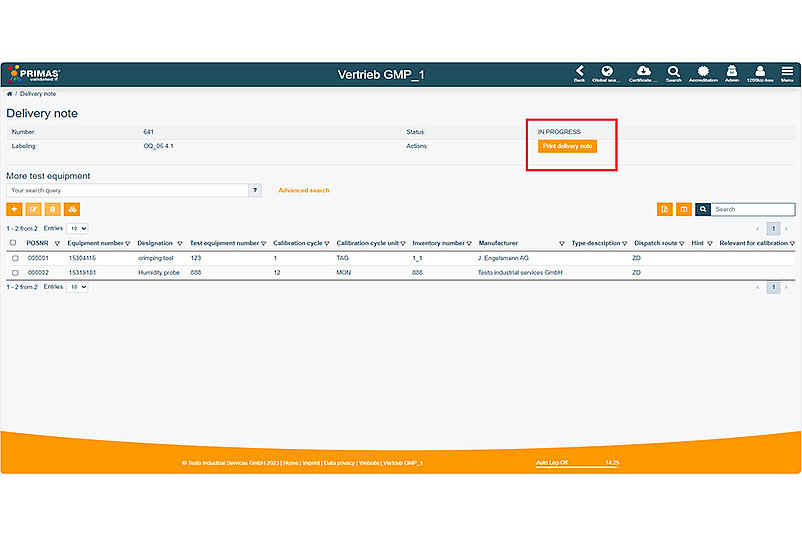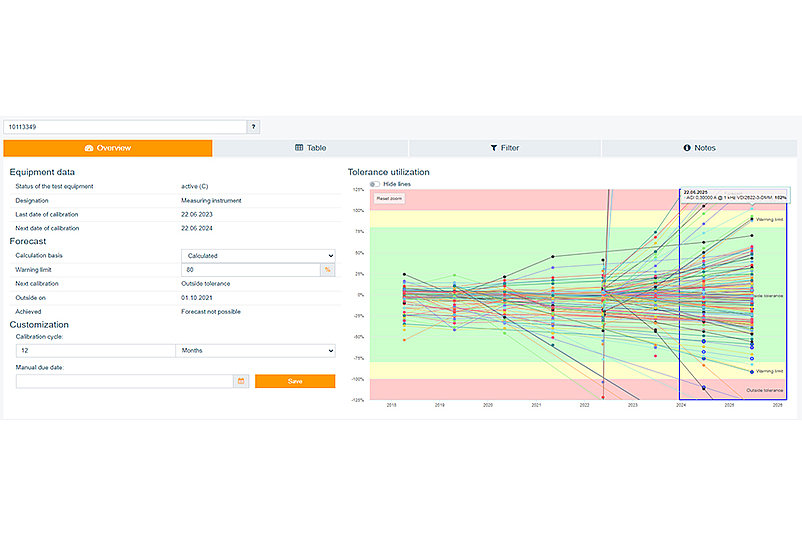 Benefit from our project process, which optimally supports you in the implementation of PRIMAS validated and minimises your efforts. This is divided into three phases: set-up phase, stabilisation and test phase (including training) and finally the validation phase.
Every company has its specific needs: Choose the PRIMAS validated components that meet your requirements - regardless of whether you are a smaller company with few measuring and testing devices or a large company with a complex organisational structure and an extensive range of measuring devices. Put together your individual, validated test equipment management system. We are happy to advise you!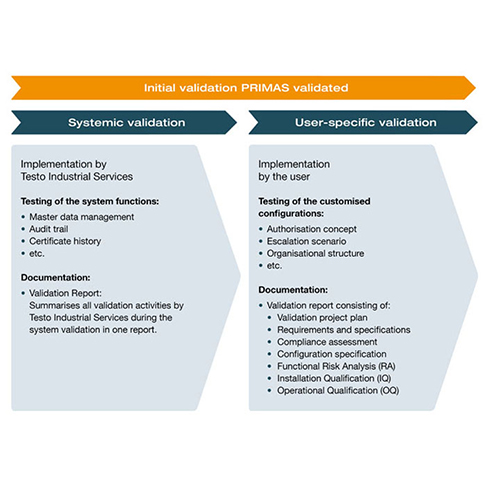 Validation concept
Through a standard-compliant validation package according to the specifications of GAMP 5®, we ensure the validated state throughout the entire life cycle. This package includes both the systemic basis and its functions (such as audit trails and certificate histories), as well as your customised configurations (such as the escalation scenario and the authorisation concept). For the validation of PRIMAS validated, we offer you a fully comprehensive validation service. This service includes a standardised validation concept, which significantly minimises the effort on your side. The validation package is complemented by the validation of your user-specific configurations. Get detailed information about the implementation and documentation of risk-based validation from PRIMAS validated.
Modulare structure
Combine PRIMAS validated with the calibration and logistics solutions of ourmodular test equipment management PRIMAS and benefit from an ideal interaction of calibration, logistics and organisation of your test equipment.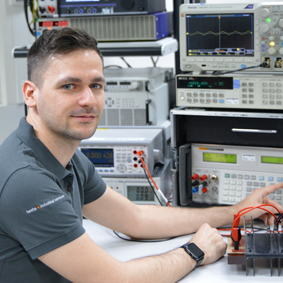 We are your full-service calibration provider for DAkkS calibrations and ISO/factory calibrations.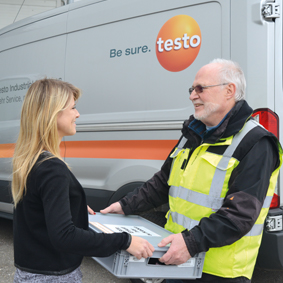 We transport your high-quality test equipment safely and quickly.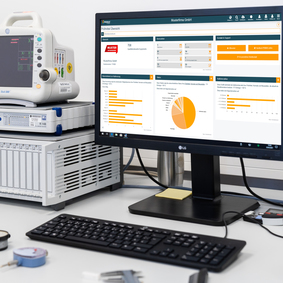 Our holistic test equipment managment solution for compliance with standards and guidelines.
Success stories
Here you will find an excerpt of our references in the field of test equipment management.
Reference KLS Martin Group
The KLS Martin Group was looking for a test equipment management solution that would meet the requirements in the GMP and ISO 13485-regulated environment of the medical technology manufacturer. Testo Industrial Services established the PRIMAS validated IT solution.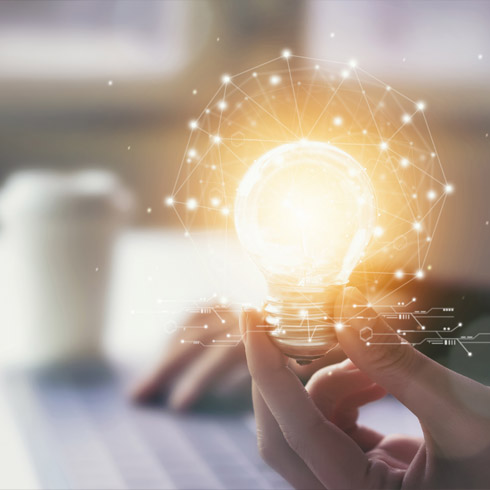 Know-how
Our technical articles provide you with expertise on the topics of calibration and test equipment management as well as validation, qualification and compliance services. In our Knowledge-Centre you will find answers from our experts to numerous questions from our specialist areas.
To read
Discover our comprehensive service portfolio. At Testo Industrial Services you can obtain all GxP-relevant services from a single source.